Iotalab is an Individual Protection Device 4.0 for the social distancing at work, at the supermarket, in the communities; it is a tool to facilitate the dialogue with regions, central government and unions on the reopening of the activities, in full respect of the safety of workers.
SBD (Safety Bubble Device) is an intelligent 4.0 device: it records collisions but does not track people, it alarms the wearer but only when there is a risk. It is therefore, a PPE that protects workers, protects employers, protects jobs, protects people and their families.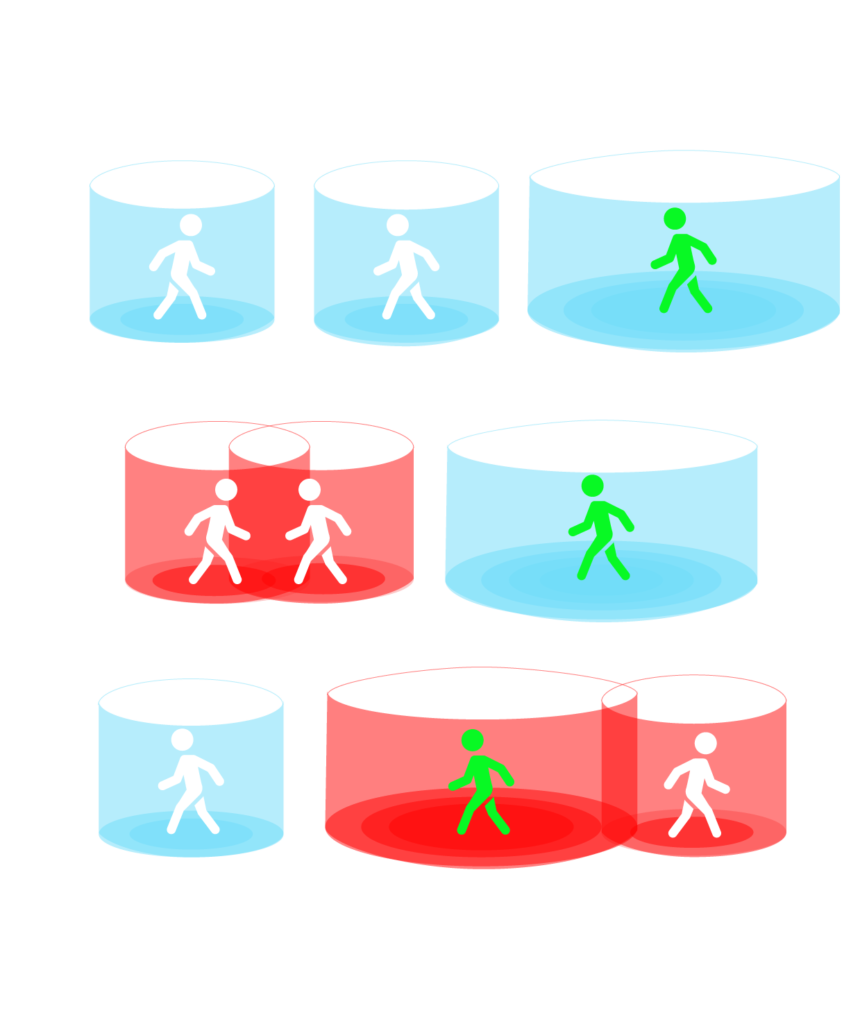 The device continuously sends a signal into the environment, searching for other devices in its vicinity and creating a sort of "bubble" around the person wearing it that has a predefined radius.

When one or more devices worn by other people approach and cross the "safety distance", each affected device starts to vibrate to alert you that you are in a risky situation, or alternatively emits a perceptible sound. You can also configure the device with classes of users authorized to stay at different distances.
For example, in healthcare, the device could be configured not to generate alarms if nurses from the same shift approach, to generate an alarm if a patient from the ward is approached at less than 1.5m, and to generate an additional alarm if a patient from a different ward is approached at less than 3m.
The device is optionally equipped with a sensor that continuously senses the person's body temperature for the cuffed version. If the temperature exceeds a preset value for a set period of time, the device generates an alarm and vibrates intermittently for one minute (or alternatively emits a sound signal and flashes for the same duration).
The device does not collect the employee's position during operational activities (in compliance with the provisions of the workers' statute and the GDPR, according to which systematic monitoring of the employee is unlawful).
The device records and sends to an application, supplied with the products, exclusively the events characterized by the excessive and prolonged proximity of one or more devices, for a period of time in accordance with the health prescriptions defined from time to time, or by a body temperature that remains above a threshold value for a significant period.
In accordance with the principle of software by design – by default, the data managed by the application are pseudo-anonymised. In case of their request by the Public Security, it will be possible to associate the events to the single persons concerned, in order to inform them and act for the protection of their health.
Smart sensors to measure distances between devices
Autonomous power supply to keep the device active at all times
When a person has entered the perimeter of the bubble, the device vibrates
GDPR-compliant data collection platform
As an alternative to vibration, the device emits an audible alarm signal
Easily sanitized silicone wristband
High visibility vest or bib with the device sewn on
Badge holder strap
Clip
Belt clip
Pocket clip